I woke up really early
I'm not sure if I woke up today at 5:15am because I'm staying in an AirBnB place for the first time or if it's because I'm excited for the day.
Today it's 2 huge keynotes almost back to back for me. One is the Apple keynote with speculation of what the new Apple TV could be or if the New Apple Watch OS will have a Minnie Mouse to go with the animated Mickey Mouse clock face.
The other big keynote for me is one of my favorites every year. It's the HubSpot keynote with Dharmesh Shah and Brian Halligan. I'm up in Boston at Inbound15 and I will be at this one live.
I love keynotes.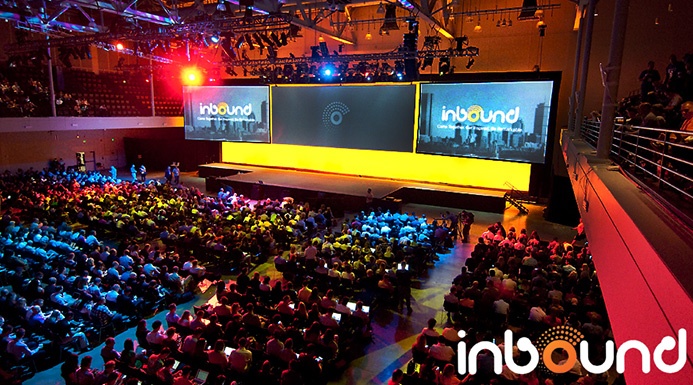 Did I call this Hype Day? Is that a bad thing? I don't think it is. These events are a bunch of hype. I guess that could be a good thing right? As long as these guys can back it up... HubSpot and Apple get you excited and they both deliver.
As much as I am looking forward to announcements and things that make you go "hmmmmm", another thing crossed my mind.
This is my 3rd Inbound. It's all about the keynotes, the breakout sessions, the booths, and the parties right?
Yes the keynote's are inspiring. There is a huge sense of renewal and invigoration. You will learn a lot in breakout sessions. You will also see a lot of new things from the partners at their booths. (my favorite so far is Uberflip).
I'm also here to find new clients. Last year I left the event with hundreds of business cards. I got a few contracts out of it too. I had a booth and the whole nine yards.
Hype Day Reflections
I'm reflecting this morning on Hype Day 2015 about what I am going to get out of this event. Inspiration? Software and Marketing ADHD? Education? Mountains of Business Cards? Deals?
To put it in perspective I just thought about Inbound last year. All of those things I just mentioned didn't add up to a fraction of the most important thing.
I met people last year that I helped and that helped me throughout the approximately 365 days since.
The people I helped.
I met 3 fantastic clients that I still work with. I've helped them change their business. We have fun working together. I'll continue to do anything to help them. How many of your clients do you have fun with? How many have fun with you?
The people that helped me.
I met Pete Caputa who is the head of the HubSpot partner program. I have to say, that I barely recognized his name before the event. (I'm not really a HubSpot groupie).
The last day of the event Pete stopped by my booth. He impressed the hell out of me then and has continued to in the past year. Have you heard all the "hype" about helping vs. selling. Pete lives it. He's the best at it that I know.
Pete has changed my world in the past year by being there to answer some questions and to introduce me to some great people that I was able to help and who helped me.
I met Rick Roberge last year as well. I argued with him a few times on forums before I had met him. Rick can be pretty aggressive at times, could be called rude (and often is called that too). He's a sales guru. He trained most of the notable people you will come across in the inbound world. He's given attribution in the book Sales Shift by Mr. Frank Belzer if that's any indication.
I hired Rick within a few weeks of the conference. Since that time he has rewired my brain from Marketing ADHD, and has trained me to have a more quiet confidence in my selling. He has also forever changed the way I interact with people, which for business has changed the landscape of who I work with and why I work with them and why they work with me.
90% of the clients I work with since, have all been awesome. It's not luck.
He introduced me to more awesome people like Carole Mahoney, John McTigue, and others who have connected me to even more great people. Hiring Rick was one of the things I did last year that changed my life.
Questions?
Are you at Inbound15 right now?
Are you looking for prospects, partners, or something else?
This year I will probably still get a ton of cards. But I'm looking for more of the people who I had fun with this year while changing my world or theirs in the past year for the better.
Who will you meet this year that will change your life?
Who will you meet that will say you changed their life?
Do you know how to find them?