Below is a guest blog from our friends over at ClearPivot. They told us how great Placeit.net was so we decided to try it out for ourselves. We found that it's not only a very useful tool, but it also happens to be a lot of fun to use.
Placeit has thousands of "product mockups" to choose from. These product mockups are essentially preset image templates that allow you to place your own image within the image provided by Placeit (like the ones below)...

Since we happen to make a lot of templates ourselves (HubSpot templates, not image templates), we thought, why not use Placeit's product mockups with our own templates? (A template within a template if you will).
So this is when we decided to have a little fun...
We took our Kaleidoscope homepage template and then, we selected one of the Placeit templates.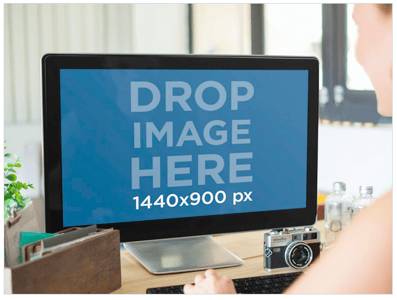 In 1 click, we took our template and put it onto someone's computer screen!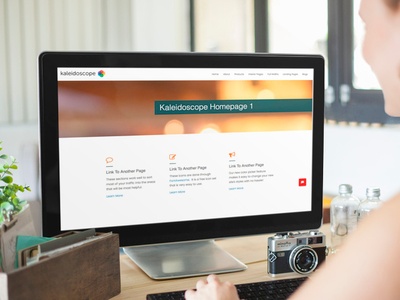 Read below to learn more about the other Placeit capabilites and the many ways you can use them for your own product offerings and marketing! We can speak from our own experience that you won't be dissappointed with the outcome.
Here is ClearPivot's full review of Placeit:
Why Marketers Should Be Using Placeit
By: Danielle Best
There is often a misconception that Marketers are Jills (or Jacks) of all trades when it comes to being an expert in every aspect of marketing. The truth is, we can't do it all- web design/development, copywriting, advertising, SEO, design at least not at the level of skill that would amount to an 'expert' level of work. That's why when websites like Placeit.net come along that help us out with things like design, we jump for joy.
What is Placeit?
Placeit is a semi-free (I'll explain this in a minute) or subscription-based website dedicated to offering marketers a step-by-step, easy-to-use process for creating brand mockups and demo videos with (audible gasp) no Photoshop skills required! The site offers a plethora of options and is even divided into three types of design mockups to fit your needs; digital, print, and apparel.
Digital
When you navigate to the website, you will find three tabs at the top; digital, print, and apparel. If you select digital, you will find over 1,000 different stage types available to use to place your images on countless digital devices. Say you want a professional-looking image that shows what your website looks like on a phone: Placeit allows you to choose from hundreds of stock photos of different phone types, angles, and placement settings. Just select the template image you are looking for and make sure that the image you want to drop in it matches the dimensions the template requests, and done!
Print
In contrast to the digital tab, the print tab allows you to take a look at what your branded image looks like on print materials. The website offers over 300 still shots and a few more multi-stage shots to choose from — see how your brand looks on a billboard, coffee cup, or my favorite, a book cover.

Apparel
The final tab is the apparel tab, and it allows for a marketer to create quick product mockups for branded clothing. It even manipulates your uploaded image to match the wrinkles and shading of the clothing in the image.
Additional Features
Some great additional features that Placeit provides that are a little hard to find unless you are really purusing, are the ability to create workflow GIFs, video (MP4s), and interactive demos (JS embeds), as well as the ability to edit your Placeit image with text and simple editing tools. The editing tool is great because it allows you to go beyond combining your image with the stock photo template to apply different filters, text messages, freehand drawings, and several other features.
My personal favorite is the interactive demo feature. With a quick input of your website URL, Placeit makes it so that your website and all of its pages are live within the image they create. Just sign in, type in your URL, and grab your embed code to get rolling.
Pricing
Probably the best part about Placeit is that if you only need smaller images for say, your social marketing, downloading what you create in Placeit is FREE (for images 600px x 212px). For needs beyond that, you can purchase single downloads at varying prices, buy in bulk, or even purchase a monthly membership.
What are you waiting for? Head over to placeit.net and start playing with all of the great, Photoshop-free capabilities it offers. We guarantee you are going to wonder what you ever did without it before.
Danielle Best is a Project Manager at ClearPivot, digital marketing agency in Denver.
Want to get some more great tips and marketing hacks from our team here at ClearPivot? Subscribe to our blog and be the first to know when we share something new and exciting that we have discovered!
Subscribe to ClearPivot's blog here