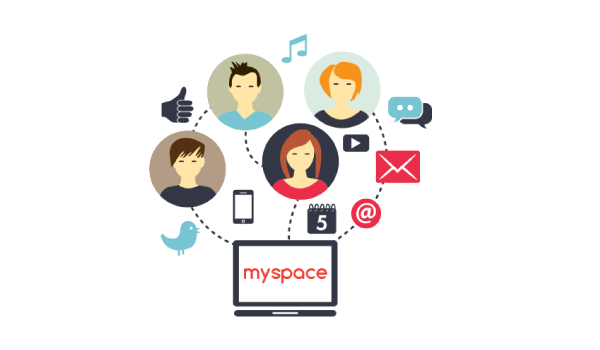 We all know that Facebook is the king of of social media platforms. These days, it's hard to find someone who doesn't have a Facebook page. But, recent U.S. data shows early signs of Americans dropping Twitter and going to MySpace.
Why on earth is this happening?!
Since Justin Timberlake and two other investors bought MySpace for $35 million in June 2011, MySpace has had a complete overhaul. It has a horizon layout, with a Windows 8/Pinterest/Tumblr vibe. It enables full screen for videos, drag and drop content, and users can also create multimedia playlists and share them with friends on Facebook or Twitter. This isn't MySpace circa 2005 anymore, this is MySpace circa 2020.
People get bored easily, so who's to say that this isn't what's happening with Facebook and Twitter? Twitter usage has slumped dramatically this year, and currently, MySpace has more unique visitors per month Twitter, or even LinkedIn. MySpace is a social media platform that has a center focus around music, which is new and exciting for social media lovers! It's as if J.T. has blended Spotify and Pinterest and created something new and brilliant. Looks like his role in "The Social Network" is beginning to come true!
Let's take a look at the facts:
Between June 2013 and now, MySpace has skyrocketed its user base. MySpace is currently third in ranks behind Facebook and YouTube, and ahead of Twitter and LinkedIn. In June, MySpace had about 8.7 million visitors, and by August, that number had jumped to about 42 million visitors. Nearly a 5X increase in traffic! In contrast, Twitter only had 34 million users as of August.
What does this mean for your Inbound Marketing? Well, everyone knows that social media is an important part of the inbound approach. That's why there's social sharing all over the place (speaking of which, do a girl a favor and share this article!). A new social platform means new opportunities for exposure and development. Who knows? Maybe soon there will be a "Share on MySpace" button down there with the rest of our icons.
If this pattern is occuring in the U.S., it's only a matter of time before MySpace has taken over Twitter and Linkedin on a global scale!
What do you think? Are you ready to ditch Twitter in favor of MySpace? Do you think it's all hype? Let us know in the comments!
The site has had a major overhaul, in case you didn't catch the launch earlier this year. It has a beautiful horizon layout that has a Pinterest-meets-Tumblr vibe with extra-large images, full screen video and being able to drag-and-drop content. Users can also create multimedia playlists and share them with friends on Facebook and Twitter Of course, because the site now has a focus around music, there's music galore.
Read more at http://www.searchenginejournal.com/should-your-brand-be-on-myspace/71917/#1pqME1bqpxtMmR6L.99