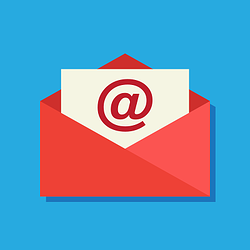 Are you spending hours trying to carefully craft an email with that unique subject line? Attempting to spark your readers attention with great preview text? But your emails still aren't getting opened, read, or clicked?
Here are some tips to get that well thought-out email opened, read, and clicked!
Be Trustworthy


What's the first thing you see when scanning your inbox? -- The 'From Name'. If subscribers don't recognize who the email is from, they are less likely to open the message. The email address should be reputable, not some Joe Schmoe email account. Try using your company name, or add your company name after the name of the person sending the email. Your business will add credibility!



Create intuitive subject lines

Along with the 'From Name', the subject line is another critical aspect of the email. Attract their attention! If your audience doesn't know who you are, a direct and descriptive subject line can be the difference between an open, delete, or ignore.

Always remember the preheader

This is the text that directly follows the subject line. On smart phones especially, it's the first bit of text that's view-able. The preheader should contain the main message of your email content, whether it is the promotion, discount or the coupon code. Therefore readers can see what the email is about before opening the email. Another trick is to make the preheader relevant to the subject line. For instance, if your subject poses a question, consider "answering" that question in your preheader!

Be Personable

Address the email with the person's name to seem like you are only addressing them. Make them feel special! Adding little personalization modules to your emails can make a huge difference to your recipients.

Consider responsive email design




Nowadays, everyone is using mobile devices and tablets for emailing and you need to ensure that their experience is optimized regardless of platform and device utilized. Make sure the email and images display correctly before sending it out to all of your customers.

Have a clear CTA
Make your Call-To-Action big and obvious to your viewer, so they know exactly what is being offered and where to go.
Have useful content
People don't want to be bombarded with hundreds of pointless emails a day. Be straightforward, concise, and throw away the pointless fluff! The main strategy with Inbound Marketing is to provide useful content to your audience. This goes for your emails as well!
Make it scannable
Most readers aren't going to read the full text of your email. They will scan it for key points that they may be interested in.

Keep your text short (very small paragraphs or bullets)

Use font bolding and italicizing

Use additional colors to highlight words




LESS IS MORE!
Include Images
We live in a visual world! Use images to grab the readers attention!

Since email users have to choose to view your images, consider adding descriptive alt-text to your images, so that even when your viewers can't see the images, they still know what they are and what they mean.
Beware of unsubscribe placement
Especially with mobile devices, it's important to consider where your unsubscribe link is in relation to other links in your email. Too often, the unsubscribe link is placed dangerously close to the main call to action. One wrong move and a loyal subscriber could potentially opt out!
Email marketing as a channel was the third overall lead gen source for marketers in 2013, producing 13% of all leads. (http://www.copyblogger.com/37-email-marketing-tips/)

Ready to start optimizing your email marketing? Keep reading our tips and tricks for the best emails possible right here.