What's the best SEO tool?
If you want the short version, here are the answers we got when we asked marketers which tool they prefer: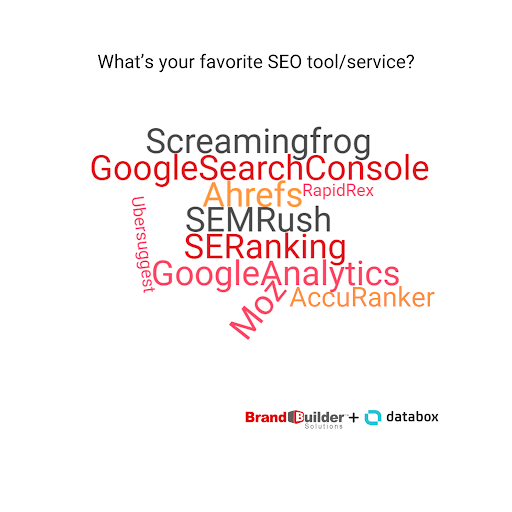 With 40+ marketers telling us about 11+ tools, there's clearly no one-SEO tool that rules them all.
So, Brand Builder Solutions and Databox teamed up to ask respondents what they love about the tools they picked—and what they wish the tools did better.
Before we jump in, though, let's take a look at one more interesting statistic from the survey: the number of people at the agency who are trained on the SEO tool.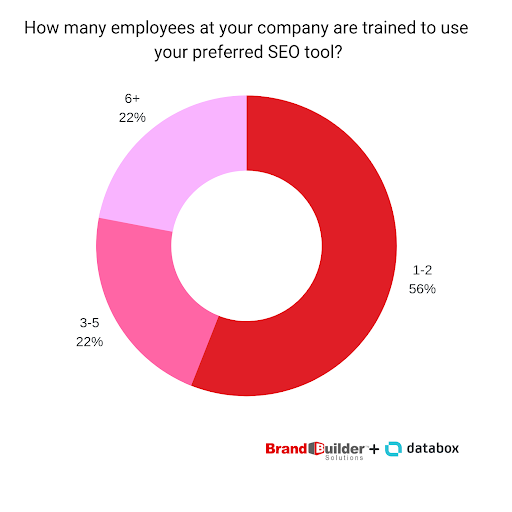 In most cases, only one or two people can take full advantage of the tool. But almost a quarter of agencies have six or more people able to use the tool.
Which tools are they actually using? Here's what we found out.
Ahrefs
"There are too many things to love about Ahrefs, and it's absolutely hard to just pick one," says Grit's Jason Acidre. Acidre wasn't the only big fan of the service. Marketers showed strong support for Ahrefs, giving it 14 recommendations in our poll (every other tool besides SEMRush and Accuranker got two or fewer). Why is it such a popular choice?
"Ahrefs is the second-most powerful commercial crawler after Google with one of the most complete and up-to-date keyword and backlink databases," says Dmitriy of MiroMind. "In fact, on numerous occasions, we have noticed that new links are discovered by Ahrefs before they're indexed by Google."
"For example, we had published a new guest post with a link to our website and here is what we found:
Article published—7 February 1.30 pm
Ahrefs discovered link and brand mention at 3.15pm
At 5 pm—the article is still not indexed by Google"
Edmond Pouilly from Oxygen agrees: "Our favourite feature of Ahrefs is its powerful website crawling capability, which we believe is stronger than their competitors. Ahrefs therefore finds more backlinks and has more filters for us to select from allowing us to provide more accurate recommendations to our clients."
"We are also able to generate insights out of the graphs on the dashboards in order to identify trends, which we weren't able to do using Moz."
Topic Research
"One of our absolute favorite [Ahrefs tools] is the 'Content explorer' option," says Angelina Harper of Design Rush. "We use it for finding easy-to-rank-for topics with high traffic potential. We can find pages that attract a ton of traffic, but do not have any referring domains that cement its position. We can then build pages, a few links and rank for those keywords quickly."
"The other very important thing here is, that this 'Content explorer' is not like the one on Buzzsumo. This one is more SEO-oriented, while Buzzsumo is focused on the social aspect of web content."
Digital Eagles also uses Ahrefs for generating content ideas, says Matt Antonio.
"The Content Gap tool is under-used but superb. Ranking sites comes down to onsite (content) and offsite (links). Ahrefs helps us balance both sides of this. We can find the current holes using both 'Content Gap' and 'Link Intersect' and then see how we're filling them with the 'Content & Keywords Explorer' and the main 'Site Explorer' tools."
"Most backlink research tools give you one or two related tools but the Ahrefs suite is a complete and incredibly important tool in our digital marketing stack."
Keyword Research
"I would've named Google Search Console's Performance feature, but it is limited to only the websites I already have access to," says CIENCE's Natalia Makarenko. "Therefore, it's the Ahrefs Organic keywords tool."
"This is one of my favorites, as I can see how well a competitor's website is doing in search. In addition, it shows positions of those keywords, the particular pages those keywords are relevant to, and the estimated monthly organic traffic these keywords brought to the website."
"What's more interesting, with this feature, I can see the keyword difficulty and from this quick overview, I can understand how many linking domains this or that keyword needs so it can rank. Here I can include or exclude some words that I don't need or export everything in a convenient Excel doc, where I can work with the given information more deeply. Last but not least, it shows SERP features of where the particular keyword appeared."
"Additionally, the analysis that can be done if we go to the Movements tab of Organic keywords and see what was happening with the keywords and how many positions down or up they went between particular dates. If we analyze the industry i.e. a bunch of websites, this can be quite useful to investigate.
Maddy Osman from The Blogsmith also likes Ahrefs' keyword tools: "Ahrefs' Keywords Explorer feature is what convinced me to shell out the ~$100/month required to use the tool. I've tried dozens of keyword research tools and it's the best one out there for my needs."
"Ahrefs is the most transparent in terms of how many backlinks you'd realistically require to actually rank for a given term. It provides lots of supplementary/useful data in terms of monthly search volume (which can be further segmented by location) and even cost per click."
"Besides these factors, the most useful part of Keywords Explorer is the keyword ideas lists. There are four different lists to browse for refining your keyword research, including: having same terms, questions, also rank for, and newly discovered. Furthermore, Ahrefs helps push you in the right track if your seed keyword is just a bit off with their 'parent topic' suggestions."
3dcart's Jimmy Rodriguez specifically mentioned the Organic Keyword tracker: "The reason I love this feature is the fact that not only does it help you gauge where you are, but also gives you detailed information on your competitors. It provides really insightful data on what keywords your competitors rank for, as well as which position they're in."
"The most telling part of this feature is the traffic data provided for each keyword. This saves a lot of time in deciding which keywords to go after. This tool has been instrumental in helping us build the proper content strategy for 2019."
Backlink Tools
"I really succeed with using the backlink tool in Ahrefs," says Emily Moore of Colorescience. "I am able to see all the recent backlinks that have gone live recently for my company. I can then easily export all the URLs into an excel spreadsheet that I can easily download into my ongoing prospect list."
The GlobalOwls team also loves the new and lost link overview, says Raul Tiru.
"Although we find that Google Search Console is more thorough in finding all links linking to us, there is no option in Google Search Console to filter by time. That's what Ahrefs does really great."
Alex Boston of Paperlust specifically calls out Ahrefs' competitor backlink analysis. "The ability to easily sort competitor backlinks and DR of these backlinks, separating dofollow from nofollow link strategies, and easy study for competitor startup link building and acquisition strategies."
"Another great feature of Ahrefs is being able to see Linked Domains, so other sites and where they link out to, this can add weight to how valuable a link from a certain high DR domain would be if they had not linked to a lot of sites. The Linked Domains tool also allows us to spot collaborations the target site has done with other brands and therefore gives us ideas to pitch to them to do a similar or complementary collaboration on content."
"Furthermore, Ahrefs allows easy export of this data to excel for assigning teams to tasks, and giving us a roadmap to replicate the industry links that competitors have built. Ahrefs gives us an accurate representation of our URL Rating (UR) and Domain Rating (DR) scores, the keywords we rank for by Country and rate of change on keywords in 1-100, top 10 and 1-3 [rank positions], and also the estimated work involved to compete with the bigger players in international growth markets."
"Ahrefs has a robust API for backlink reporting" said Andrej Zitnik, Director of Product Integrations at Databox. "They have enabled us to build a simpler view of the important link-building data so agencies and SEO experts can easily report progress to their clients and bosses."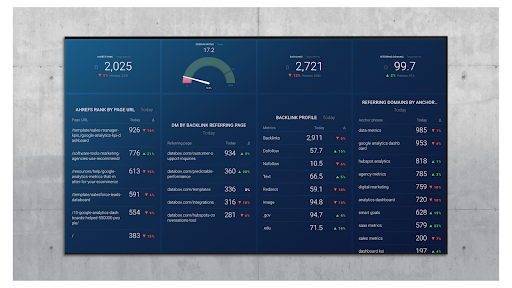 Ahrefs' users can download the Ahrefs Website Audit from Databox.
Competition Analysis
"Ahrefs' Top pages report (within Site explorer) is my favourite feature, since it allows us to see under the hood of any domain's SEO and content strategy," says David from Grow Hack Scale.
"As the name suggests you can see any domain's most valuable pages, the keywords they're targeting, who's linking to that page and their SERP position. Going even deeper, you can look at each page individually to see which keywords generate the most traffic, making your job much easier."
"Whilst many SEO tools can show similar reports, Ahrefs is one of the few, if not only tool that breaks the data down at the page level. And since the data is so accurate, you can create a content calendar that's guaranteed to generate traffic."
"I usually run all my SEO projects by plugging in my competitors' domains into Ahrefs to identify the keywords and topics that'll give me the biggest gain for the least investment."
Frequent Updates
"They seem to be constantly coming up with new additions to the tool, before you even knew that you needed it," says Ampmycontent's Daniel Daines-Hutt.
"I know they actively listen and implement from their user group- but it also feels like they are actively using the tool for their own linkbuilding. They constantly surprise me how much they improve."
Zac Johnson of Blogging.org appreciates the constantly evolving nature of Ahrefs as well. "Ahrefs is at the top of our list as an SEO tool because of the many features and improvements they are making all of the time."
Where It Falls Short
So what don't people like about Ahrefs? The most common complaint had to do with reporting. One marketer pointed out that the service lacks many third-party reporting integrations. Another wished for better on-page SEO and content analysis. Yet another would love to see custom automated reports.
And while most marketers appreciate Ahrefs' backlink tools, some said that they could be improved—especially the lost links feature.
On the other hand, several marketers noted that the Ahrefs blog and video content are top-notch. So whether or not you use the tool itself, you should certainly check out the information they're publishing!
SEMRush
Tied for most popular was SEMRush. Here's what marketers said about why they chose it as the best SEO tool:
Comprehensive Functionality
Robin Eyre of Trailblazer360 puts it simply: "It's fully loaded."
"The interface is superb; branded PDFs for site audit reports; ability to create bespoke, branded reports for many, many SEO components and integrated with Google Analytics and Search Console; and social media scheduling and analysis as well. It also allows 1,000s of keyword searches per month."
Red Wall 's JR Griggs agrees: "SEMRush is a great tool when you need multiple features all-in-one. There are others that will give you the same data but you may have to pay more to get it all. SEMRush has far less limits. It will definitely do the job of helping you research and optimize your SEO efforts."
"I also like that they have training and certifications. I can have a team member go through their course and come out really knowledgeable about SEO and how to use SEMRush."
Avidly 's Thoralf Lindström also appreciates the wide variety of tools in SEMRush. "It tracks dozens of things (organic position on Google's search engine results pages, AdWord's ads and their positions and even competitors). Being a content person, I especially like the content marketing features like Keyword Research and [their advice] about Guest Blogging."
Competitor Analysis
"When working with a client for the first time, SEMRush gives me a snapshot of the competitive keyword landscape," says Paul Schmidt of SmartBug Media . "For keyword research, I gain a clearer idea of the topics, volume of keywords and specific topics that we may pursue for SEO."
"The keyword gap tool allows you to export up to 50k keywords (their ranking and difficulty) for each of your competitors. This helps us identify topic areas that are oversaturated with great content we may want to avoid and topics that are underserved that we may want to pursue."
Junto 's Pat Ahern also appreciate the competitor analysis tools: "SEMRush is the best tool on the market at their price point for competitor analysis and on-page SEO insights. We use this tool on a daily basis to identify top-performing competitor content, send out automated weekly keyword ranking reports to each of our clients, monitor site health of each of our clients, and much more."
"If we're pitching new business in a segment that we're not familiar with, we can use SEMRush to learn about the competitive landscape in under 15 minutes," says Sky Alphabet 's Steve Yanor.
"This gives us more time to be able to analyze what's really going on with the SERP in terms of keyword opportunities and areas where we can make easy gains using social media traffic. The other really useful feature of SEMRush is their weekly ranking updates. These are perfect for tracking the performance of short-term tests and SEO strategies."
Keyword Research
"After determining if a keyword is relevant to your persona, the next most important factor to look at is the likelihood you have to rank," says Nectafy 's Henry O'Loughlin.
"The keyword difficulty (KD) metric in SEMRush is very useful for this because it scores how difficult the keyword will be to rank for on a scale of 0–100. You can't get this type of metric in Google's Keyword Planner, for example."
"One way I use this tool is to check the average keyword difficulty for all keywords we have ranking on page one. Then, I'll want to target new keywords at or below that average to increase the likelihood of ranking."
Shari Monnes of UP There Everywhere is a fan of the suggested topics for keyword research. "The suggest topics feature from SEMRush is a great tool to research blog topics based around keywords and then drill down by the questions popular on Search as well as the efficiency of the keyword (based on competition and search volume)."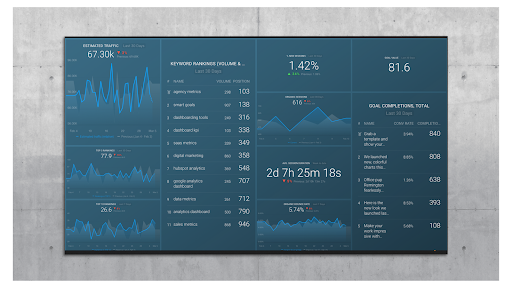 SEMRush users can download Databox's Keyword Mission Control dashboard .
Audits and Historical Data
"I love the site audit tool," says Nettly 's Thorstein Nordby, "as it automates many of the tasks I would normally spend tons of hours doing in multiple spreadsheets. The site audit tool is essentially a reporting tool that helps our agency fix on-site issues and technical issues on our client's websites."
"When using the tool, it will do an audit of a set number of pages on a site, and you will receive a short list of issues and errors you need to prioritize and fix. These are often issues I would overlook otherwise, but with SEMrush it is done automatically."
"After doing the fixes, SEMrush will also tell me that the issues are fixed, and will show me how it has made a website more visible in the search engines."
Aaron Wall from SEO book appreciates "historical sitewide data for a site along with granular page-level data to analyze shifts and trends."
"SEMrush allows me to dive super deep into the website health & corresponding data of my client's sites," says Dustin DeTorres of the DeTorres Group . "It's the primary tool (once Google Analytics & Google Search Console are synced in) that I use for my forensic SEO audits. I also LOVE how I can create projects and setup custom alerts directly related to what I want to see."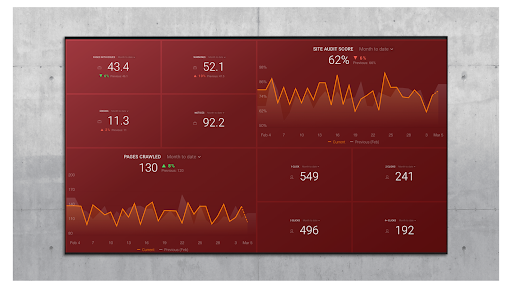 SEMRush users can download Databox's SEMRUsh site audit dashboard .
Where It Falls Short
One thing that multiple marketers pointed out is that SEMRush's traffic estimates consistently differ from those generated by Google Analytics (and they tend to be lower).
Lukasz Zelezny from Zelezny.uk loves the GAP analysis, but wishes he could, "export competitors keywords with corresponding URLs."
Another common complaint was that SEMRush doesn't provide enough keyword tracking capabilities for agencies who need to report SEO results alongside other data in tools like Databox. Specifically, agencies were irritated to find out that accessing SEMRush's API to pull data into other apps requires an additional fee.
The site's user interface—as well as the UI of the mobile app—was also mentioned as a point against the service.
Google Analytics
"Google Analytics (GA) has been the SEO leader for so long that it's almost unfair to include it in this list of tools, many of which leverage Google Analytics data," says Matt Solar from nDash.co .
Why is GA so great?
"Like all website analytics tools, It's powerful for determining the behavior after people arrive at your site from search." said John Bonini, Director of Marketing at Databox .
Chris Collins of Chilliprinting also prefers Google Analytics to other options. "Google Analytics beats most of the other available SEO tools because it actually measures what is happening," he says.
"One of the key features I like about this tool is that you can drill down to see exactly where your organic traffic comes from, where users go next after landing on your website, which website pages convert best, etc. In general, if you're looking at tracking key metrics for ROI instead of just monitoring vanity scores, Google Analytics is hard to beat."
But this power comes with a cost. "As the capacity of Google Analytics has grown, so too has the complexity. While I like most of the features introduced over the years, at times I still miss the simplicity and visibility the tool used to offer, especially around search term queries."
"Before Google started encrypting their traffic in 2013 , it was easy to see exactly what keywords were bringing visitors to your site using Google Analytics. But, when almost all search traffic turned to "(not provided)", it made our jobs a lot harder," added Bonini.
Also, since Google Analytics does not tell you where you rank, how much traffic you are getting from a specific search keyword or anything about a competitor's site, it doesn't really give a complete picture. "The obvious downside of Google," says Collins, "is that while it helps to tell you where you stand at any given moment now or in the past, it doesn't support you enough in how to actually boost traffic going forward or figuring out how your competitors are doing."
Google Search Console
Joe from AdVision also prefers Search Console. "The fact that it is proprietary to Google is by far its biggest perk. It gives valuable, first-hand insight as to the health of a site. I cannot imagine doing SEO without it."
"Even though a lot of great SEO tools have been listed, Google Search Console is still the best tool in terms of assisting a webmaster to optimize their website," says SEO Hacker 's Sean Si.
"Search Console is the only data resource for actual (not estimated) traffic, impressions, rank and CTR across landing page, device, country and query. User signals are more important than ever and being able to analyse and access the CTR thoroughly is very important to any business hoping to succeed in Google." adds Christian Højbo Møller
Si continued, "Knowing which keywords best describes your site according to Google (Queries) is a great feature to determine which keywords you should focus on and potentially increase your site's traffic."
"Knowing which pages have errors in the eyes of Google also helps with the optimization of your website because even though GSC doesn't specify the problematic area of a page, they give you the general error it has—which is usually enough information for you to have when it comes to fixing the error."
"Another feature that makes GSC stand out is its Mobile Usability and AMP platform. Since we're now in the mobile age, wherein the majority of the population have access to the internet through their mobile phones, a site's mobile usability will be a major factor for search engine rankings."
However, Search Console does have some drawbacks, says Si. "They could improve how they present the data to the users since most of what we need to see on GSC, takes one or two clicks to reach. "
Møller uses the GSC Application Programming Interface (API) to enable his efforts more thoroughly, "The tools lacks fundamental tagging capabilities (across hierarchy and taxonomies). Getting sufficient insights from your data can be difficult without accessing the API and applying your own rules in an external data- or dashboard solution."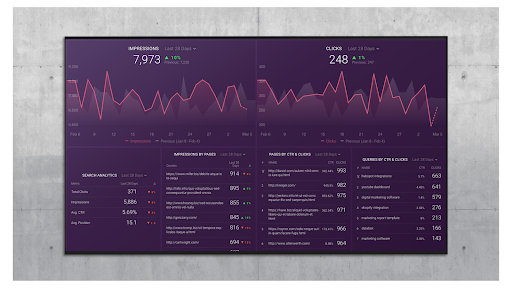 Google Search Console (GSC) users can download Databox's GSC Basics dashboard .
Accuranker
The biggest drawback of relying solely on Google Analytics and Google Search Console is the lack of keyword rank data. You could get that with a complete SEO tool like SEMRush or Ahrefs, but if you just want keyword rank data, Accuranker seems like the best-of-breed, fastest tool.
Bruno Berlafa from Perfecto Digital SL adds, Accuranker is the fastest tool to perform deep and complete keyword research and to get relevant search volume indications among other vital indicators."
"The user friendliness of Accuranker together with the reasonable pricing for tracking a lot of keywords makes me a fan. Tagging, exporting, ease of adding keywords, competitors, etc. makes it a very agile keyword tool, when you are on a mission to basically know your rankings."
Accuranker also allows users to instantly check their keyword rankings, shares Peter Lauritsen from TEXTA , "Our ability to update rankings on-demand makes it possible to always stay updated."
Anna Ilyina, content marketer at Digital Olympus also loves the fact that Accuranker enables on-demand keyword rank checking. She also pointed out how deep in the Search Engine Result
Pages (SERPs) it digs, "The feature that sets AccuRanker apart is the fact that it digs 500 positions down. This provides me with a deeper understanding and more insights while doing research. Moreover, their ranking distribution graph motivates me to think harder about how to improve the keywords and move most of them to the top."
Tobias Hyldeborg from Quisma explains why AccuRanker's keyword planning is superior to others. "AccuRanker makes it possible to filter your data in every possible way, directly in the tool. For example if you want to obtain more Featured Snippets for keywords related to the FAQ page on your website where search volume is greater than 1,000 searches per month and you are already ranking on the first page of SERPs: filter keywords, where there already is a Featured Snippet + you are already ranking on page 1 + only keywords related to your FAQ pages (which you have already tagged) + search volume above 1.000. This way, you don't end up wasting time on small wins. I also love that when you are done creating searches like this, you can export to a spreadsheet."
In contrast with SEMRush, Patrick Lønne Hoffmann from Kids-world.dk gives Accuranker's interface a perfect score, "Regarding UX AccuRanker scores 10/10 - the dashboard is very intuitive. It's easy to add new keywords, tags, devices, locations and understand the change in rankings, Share of Voice (SoV) and other features on the SERP."
The Accuranker fans also had some suggestions for improving it, including:
"It would be interesting to look at all the websites that rank for a given keyword, and the daily/weekly fluctuations to understand the volatility and opportunities. Right now, it only does this for our competitors." - Christopher Hofman Laursen of Impact Extend.
"While the reporting feature saves us tons of hours when documenting and evaluating initiatives, the ability to further customize the generated reports so that we can edit it further to cater both our needs as an agency, but also in relation to the specific client." - Peter Lauritsen from TEXTA.
"I would recommend Accuranker to improve the keyword suggestion section that is still in beta-mode. This could benefit a lot of users by giving more inspirational suggestions then what is currently offered." - Bruno Berlafa from Perfecto Digital SL.
"A SEO competition metric would be nice, similar to the Google Ads competition metric for paid search, but for organic ranking." - Tobias Hyldeborg from Quisma.
"Recommendations on how to optimize specific pages that ranks for one of my keywords. Things like: 'this page doesn't have a meta title', 'have you considered x' or 'the top 3 in SERPs for this keyword also has this keyword in their title – but you don't'."
- Patrick Lønne Hoffmann AND company:Kids-world.dk
"I would love to see more educational materials on how to use all of AccuRanker's features. Tips on improving and finding new keywords would be welcome. It'd also be great to see hints and ready suggestions on competitors by geolocation." - Anna Ilyina, content marketer at Digital Olympus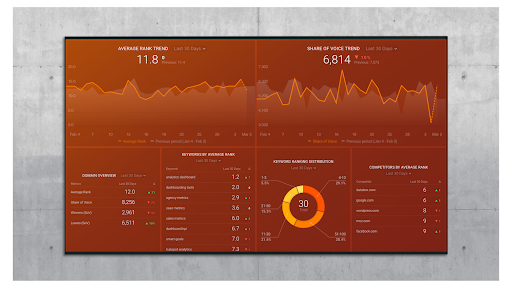 Accuranker users can download Databox's Accuranker Domain overview dashboard .
Moz
Christabelle Tani of Brand chemistry chooses Moz because of its "ability to see keyword performance across clients and compare against competitors. It also tracks where we're mentioned, so it's low-hanging fruit for backlinking opportunities."
Though Tani also notes that search volume data isn't available on all search phrases, which is a drawback.
Print4Hospitality 's Richard George points to Moz's reliable metrics and quick reference tool for keyword gap analysis as perks. That being said, George thinks the tool's keyword position tracking capabilities could be improved.
Screaming Frog
"Screaming Frog is bar none, the best tool to use when we perform our in-depth technical SEO audits," says SurgeStream 's Kevin Williams.
"It allows you to fine-tune for specific website elements and filter results much better than other SEO audit tools that are available. For example, if you want to just show h1 tags that are over 50 characters, you can filter that and then export it as a CSV file or another format."
"Also, in our comparison tests with similar tools, it is more accurate, captures more pages and runs a lot faster."
"There are other SEO audit tools that are easier to use, but Screaming Frog allows you more control and customization features that are very valuable, especially for follow-up or quarterly website audits."
Brad Driscoll from Think Big Marketing also lists Screaming Frog as a favorite tool. "It's one of the best ways for us to find broken links, non-secure pages, and is especially useful for finding duplicate title tags and meta descriptions. It's also a great way to analyze other websites to find broken links to help find link building opportunities."
"There are plenty of SEO tools offering keyword research, tracking, and other common SEO needs, but Screaming Frog is the most useful tool for finding and fixing technical aspects of cleaning up a client's website."
Driscoll does point out, however, that Screaming Frog isn't reporting software. "Currently, we just export the data in CSV and format the data in our own custom reports, but it would be incredibly useful if Screaming Frog offered this in some way."
SE Ranking
"SE Ranking helps cover both keyword tracking and technical audit[ing]," says Referral Rock's Jay Kang .
"We write a lot on our blog and we have guest authors writing for our blog as well, so we have a ton of content we need to analyze to see how well we are doing. The website audit helps compare my audits and changes I've made so that I can see what's been fixed, compared to other seo tools out there."
Kang also likes the "Compare Crawls" section. "I can see the before and after technical SEO. It's easy to point out what was wrong and what was fixed."
Unfortunately, says Kang, on-page optimization records aren't great. "If I want to test a new title or meta description and compare the ranking performance and CTR of the previous to the new one, I would love to see this type of tool."
Kang also adds that custom automated reports would be nice.
The Oxford Medicals team appreciates the simplicity of SE Ranking, but wishes it had a free version.
RapidRex
"RapidRex is my favorite SEO tool because of how user-friendly and simple it is to operate," says Emily Banks of Arnett Security Credentials .
"The advanced functionalities are broken down simply enough for even users like me with very little prior SEO experience. I am able to customize what data I am shown and then sort and filter it accordingly. Being able to export valuable information summarized in professional, ready-to-present reports saves me time and makes the entire process less stressful."
Banks wishes that RapidRex offered more on their freemium plan, however. That being said, she "loves how many features are included in the Pro Plan and it is not as pricey as similar tools on the market."
Ubersuggest
Riley Adams of Young and the Invested says that Ubersuggest is a big help in the content-generation process.
"By doing keyword research I can see likelihoods of me ranking on Google for targeted keywords. I combine this knowledge with simple Google searches to see the user intent of the top-ranking pages for those keywords as well as related searches Google users have when searching for this topic."
"I find by providing this original topic and answering associated search questions/topics, it will improve my rankings as Google understands my content aims to match user intent."
Unfortunately, "Ubersuggest has a tendency to load for long periods of time or never at all. I frequently must reload the page altogether and start over if I wish to use the tool multiple times."
How to Pick The Best SEO Tool for You
After reading these responses, one thing is clear: different marketers have different needs, and are better suited using different tools. Some tools are best for content and keyword research, some for link-building, while others have strong technical SEO functions. Some have user-friendly interfaces, while others require more familiarization. Some are more expensive than others.
Overall, based on all our responses, it seems like the right approach to picking an SEO tool is as follows:
Use Google Analytics and Google Search Console (since they are both free and useful in unique ways that the other tools can't match).
If you want to go all in, use a more complete platform like Ahrefs or SEMRush.
If you just need keyword research and tracking (or want to go real deep on keyword research), Accuranker seems like the best bet.
If you are on a budget, try some of the other tools on this list.
What is your favorite SEO tool and why?